An article by Bruce Sanderson from the June 30, 2015 issue of Wine Spectator.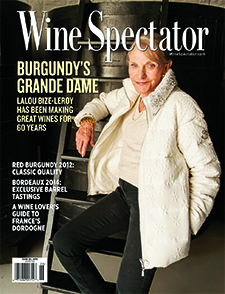 Isolated but undaunted, Lalou Bize-Leroy makes some of Burgundy's finest wines
Disaster loomed in Burgundy's 1993 vintage. A wet spring led to severe attacks of mildew. To save their grape crops, growers had to spray twice as much fungicide as in a normal year.
Marcelle ("Lalou") Bize-Leroy would have none of that. The owner of Domaine Leroy, with holdings in many of Burgundy's finest vineyards, she had been committed to biodynamic principles since founding the estate in 1988. She adamantly refused the use of chemicals, even as her gentler, biodynamic-approved treatments failed to turn the tide against the mildew.
"It happened very, very, very fast," Bize-Leroy recalls. "I was doing the rounds of the vines on a Tuesday in June in '93. There was not a touch of mildew. Three days later in Nuits-St.-Georges, there were no grapes. All the vignerons and journalists who came to St.-Vivant in June 1993 said, 'This crazy old woman, she can't see her vines are dying.'  But the vines weren't dead. On the contrary."
Her dedication to biodynamics and her abhorrence of chemical treatments led her to a difficult choice: She decided to save her vines rather than the year's crop of grapes. Her harvest was meager.
That decision cost her the estate's longtime winemaker. André Porcheret, whom she had hired in 1988 to oversee the domaine's vinifications and vineyards, never had full faith in biodynamics and wanted to use fungicides. He left Domaine Leroy after the 1993 harvest.
But two years later, Domaine Leroy's small production of 1993s garnered glowing reviews. Wine Spectator rated seven of the bottlings 95 points or higher on the 100-point scale on release, and a year later, in a vertical tasting, Bize-Leroy's Romanée-St.-Vivant, the very vineyard pundits had scoffed at in June '93, earned a near-perfect score of 99 points. Bize-Leroy was vindicated.
"[It] was a year that brought us a lot of sadness but [1993] was a turning point for us," she reflects now. "We did well, because the vines didn't die. They recovered and they are beautiful now."
On a January morning, the petite Bize-Leroy, stylishly dressed in black jeans, black boots and a white down blouson, holds court in her cellar in Vosne-Romanée. It's spacious by Burgundy standards, and the wines we're to taste are lined up on barrel heads, corks sitting across the open necks.
As the wines are poured, sniffed, swished and contemplated, she nods, occasionally commenting, "great potential," "superb flesh," and when we taste the Musigny, "close to heaven." These wines are the crown jewels of the estates she purchased in 1988 and 1989, a collection of some of the greatest climats in Burgundy, from whose low-yielding vines come many of the world's greatest reds.
This year, Bize-Leroy turned 83, and celebrates 60 years in the wine business. Her career began in 1955, when she assumed control of Maison Leroy, a négociant firm her great-grandfather François Leroy founded in 1868.
The family had other businesses. Lalou's entry into Maison Leroy allowed her father, Henri, to focus on another lucrative endeavor, the brandy distilling business. More prestigious, if less profitable, the family also had a stake in Domaine de la Romanée-Conti. Henri had invested in DRC in 1942, buying 50 percent of the shares. Lalou served as codirector of DRC from 1974 to 1992.
Bize-Leroy still owns 25 percent of DRC today, but she is no longer involved in its management. A bitter dispute that pitted her against both her family and her codirector, Aubert de Villaine, led to a split in January 1992. Her family firm of Leroy S.A. also lost its distribution rights for the DRC wines, which, since 1942, it had held in all markets except the United States and United Kingdom.
In 1988, Bize-Leroy purchased Domaine Charles Noellat in Vosne-Romanée, and in 1989, Domaine Philippe Remy in Gevrey-Chambertin. Additional purchases in 1989 brought the total vineyards to 55 acres. Both Domaine Leroy and Maison Leroy are under the Leroy S.A. umbrella, one-third of which is owned by Bize-Leroy, one-third by the family of her deceased sister, Pauline, and one-third by Leroy's longtime Japanese importer, Takashimaya.
In addition, Bize-Leroy personally owns Domaine d'Auvenay, based in a medieval farm on the Haute-Côtes above St.-Romain. The vineyards under the d'Auvenay label encompass 12.35 acres, most of that white grapes but also including small holdings in the grands crus of Bonnes Mares and Mazis-Chambertin. D'Auvenay is typical of small Burgundy domaines, its parcels spread across several appellations among six villages. Since 1988, annual production has hovered between 350 and 500 cases.
Domaine Leroy is a good size for Burgundy, not as large as DRC, but about twice the size of Domaine Armand Rousseau in Gevrey-Chambertin or Domaine Comte Georges de Vogüé in Chambolle-Musigny. A good portion of the vines, about a third, are in grands crus. However, Leroy's average yield since 1988 of 1.1 tons per acre means that the number of bottles produced per acre is half to one-third that of most domaines. Production since 1988 has ranged from 1,700 to 3,750 cases per year.
Given Bize-Leroy's accomplishments, one might expect her to be considered a sage of Burgundy, sought out by the younger generation for advice and counsel. On the contrary, she is an outsider in her own region. That may be due in part to her fierce commitment to biodynamics, or to what some consider her difficult personality.
Ironically, she has more interaction with Bordeaux producers, in particular Château Pontet-Canet, which is farmed biodynamically, and Château Latour, which is moving toward biodynamic cultivation. She has exchanged wine with Domaine d'Eugenie in Vosne-Romanée, a sister property of Latour, but not with other Burgundians (with the exception of Henri Jayer in the 1980s).
"[Other Burgundy vignerons] think I'm crazy," she laughs. "I've always been isolated from the rest of them. With the Bordelais, yes. They are kinder to me, they don't think I'm crazy. They're a lot more open. But in Burgundy, no. I'm the woman to beat down.
"It doesn't matter. We continue our journey peacefully, with a lot of resistance. I think I work for Burgundy. One day or another, everything will change."
Bize-Leroy is sensitive to criticism, especially of her wines, and can be stubborn and hard-nosed, particularly when it comes to pricing; her wines are among the most expensive in Burgundy. But it's hard to argue with their quality. They can be sublime, often setting the standard for the region.
Martine Saunier, the U.S. importer for Maison Leroy and then Domaine Leroy, discovered Bize-Leroy's négociant wines in 1986 and began working with her in 1987, a relationship that has lasted more than 25 years. "She is a very determined woman, very strong. But I was so in love with her wines, I took the chance," Saunier says.
Saunier and others close to Bize-Leroy describe a fiercely proud, intelligent, resilient and passionate woman who cares deeply for all living things, including her vines.
"My work rewards me," Bize-Leroy says with conviction. "Every year my vines are the ones that reward me by giving me grapes like this. It's the grapes that reward me. They are with us. We love them; they love us. It's exactly that-it's a wonderful exchange."
She does have other "wonderful exchanges," though. Her dogs, Sylvain and Nine, are never far from her. Her sales director, Frédéric Roemer, has been a vital presence since he joined Leroy in 1994. Her husband, Marcel Bize, who died in 2004, was a huge influence in her life, a constant companion since their meeting in 1958. "He was an extraordinary man, a great seigneur. [And] he had an extraordinary sense of humor," Bize-Leroy reflects. "He was very important in my life. He is still important in my life. He is always by my side, he is still here, he never left me. We were very lucky."
Yet despite her professional achievement and personal fulfillment, she is on a relentless quest to do better.
"I'm happy to be on the right path, but the path is still very long," she states matter-of-factly. "We've only done a little bit of it. But the most important is to continue. To continue the path. We have not found how to do better yet. That's my path, to do better. For the vines, it's the same. We still have everything to find."
When Bize-Leroy joined Maison Leroy, at the age of 23, her reception in the region was hardly warm and welcoming. "It wasn't easy, especially for a young girl," she recalls.
However, the firm was a successful négociant in a time when négociants had the upper hand over vignerons. Very few properties sold their wine in bottle, so merchants had a much larger choice of wines to bottle under their own labels. Wines like Richebourg, Romanée-St.-Vivant, Chambertin-all the grands crus-were available. No longer. With domaine bottling becoming predominant over the past 30 years, most everyone who farms grands crus bottles and sells the wines on their own.
Bize-Leroy gained a reputation as a formidable taster, a skill she learned at a very young age working with her father. "I think it's intuition more than experience. I have a lot of intuition," she explains. "If I know a blind wine it's by intuition rather than knowledge. And I have a good wine memory."
She began buying wines from the 1955 vintage, but also older vintages. "I started in '55; afterwards, I rebought other wines I found, specifically '49s, some great wines," she says. Besides these, there were other vintages during her first decade or so at Maison Leroy, including 1959, 1961, 1962 and 1964, that she still thinks about today.
Bize-Leroy looks for identity in a wine, first and foremost. She wants Musigny that fits her idea of Musigny; Chambertin that does not remind of Pommard; Pommard that doesn't resemble a Volnay; Volnay that doesn't resemble a Beaune. But, she says, "I'm not looking for perfection. Perfection is not something of this world."
She bought wine through brokers, always tasting blind. The brokers would bring her samples of new wines just after harvest, made by growers across the region. If the wine was representative of the terroir and its vines, she bought. If she refused a wine, though, she didn't want the grower to know.
The élevage was classic: one racking after malolactic, and bottling after 14 to 18 months in barrel, no fining or filtration. It's what she continues to do today at domaines Leroy and d'Auvenay.
But as time went on and growers began to bottle their own wines, there were ever fewer wines available to buy. Also, Bize-Leroy concluded that quality was changing, for the worse. "There were some very good wines in the '50s, and I would say that up until 1964, it was reasonable," she reflects.
She points to increasing yields as a principal reason for the decline. "I think that up until 1964, maybe until '69, there weren't so many big yields, [so] in general it was better. I insist, in general," she adds. She considers the current legal limit of 35 hectoliters per hectare unreasonable. "For me, it should stop at 20 … 24, 25 [hectoliters per hectare]," the equivalent of about 1.5 to 1.8 tons per acre.
Bize-Leroy has always advocated for low yields, which some say are too low, or at least economically unsustainable. She says low yields are necessary for natural concentration of the juice, regardless of whether you farm conventionally, organically or biodynamically. "A wine from a vine that's yielded 40 hectoliters per hectare will not have the natural concentration of a wine that comes from a vine that gave 9, 10, 12 or 15 hectoliters. Voilà!" she exclaims.
The 1971 vintage was the last from which she could buy wines she really liked. After that, it became very difficult to find wines meeting the standards of the Leroy label. There were a lot of poor wines from the difficult harvests from 1972 to 1977. Then came 1978, a successful year with excellent wines, especially reds, but little was available to négociants.
"Because we had a great inventory, we could continue the négoce, and we sold the wines at a very high price. But there were not enough wines for us to continue to live well. Or, we could start to make them, meaning buying vineyards," she says.
That opportunity came in 1988, with Domaine Charles Noellat.
Arespected vigneron, Charles Noellat had built up substantial holdings, including Richebourg, Romanée-St.-Vivant, Clos de Vougeot and several premiers crus in Vosne-Romanée and Nuits-St.-Georges.
After Noellat's death in 1939, the quality of the wines declined, but the quality of the vines remained high. Some parcels, about 30 acres, went to other members of the family. By 1988, Noellat's heirs had decided to sell. Bize-Leroy bought their vineyard holdings, along with stock, cuverie and cellars, for 65 million French francs, the equivalent of $11.5 million at the time.
Not only were the Noellat vines well-situated, they were a very old selection of Pinot Fin, considered the best quality of the Pinot Noir family. "They were a national treasure," says Bize-Leroy. "We had to keep them. Charles Noellat was a great vigneron. Near the end, the wines weren't as good, unfortunately, but he was a great vigneron."
In agreement with that assessment is Gregory Patriat, winemaker for the négociant Jean-Claude Boisset, who worked at Domaine Leroy from 1998 until 2001, eventually managing the Côte de Nuits vineyards. "In the 1980s, there was a bad trend in the Côte de Nuits. After the huge frost of 1985, many vines were replanted with poor Pinot Noir [clonal] selections-Pinot Droit, for example-making big grapes, big crops and diluted wines. But Domaine Noellat had not planted any of these vines," Patriat explains. "That is the key. Terroir is important but we often forget that the Pinot or Chardonnay selection is as important."
Not long afterward, Bize-Leroy purchased the 6-acre Philippe Remi estate in Gevrey-Chambertin for 19 million francs ($3 million). Then came small parcels of Corton Renardes and Corton-Charlemagne (her only white wine vineyard). By 1989, Domaine Leroy had achieved today's surface of 55 acres.
At that time, Bize-Leroy was buying very little wine for the négociant business. And European sales of the DRC 1988s were about to backfire; it was discovered that bottles of Romanée-Conti from the mixed cases were being repackaged and resold in Asia. And now Bize-Leroy had two grands crus that directly competed with those of DRC: Richebourg and Romanée-St.-Vivant. Focusing on her own estate made sense for several reasons.
Though she had matured and bottled wines as a négociant, Bize-Leroy had never harvested and vinified grapes. She had always admired and bought the wines of the Hospices de Beaune, vinified by André Porcheret. She offered better pay, and Porcheret came to Domaine Leroy in 1988.
At the same time, she was searching for a better approach to viticulture, given the patrimony of vines at the estates. "I knew that if I was in charge of a domaine, I would do organics. Not biodynamics-I didn't know what that was at the time."
Her husband showed her an article from the Geneva Tribune. It was about the author's visit to Nicolas Joly's Coulée de Serrant in Savennières, and Joly's commitment to biodynamics. Bize-Leroy was fascinated. "I was ready for [biodynamics]. What I read was exactly what I was looking for."
She approached the change with all the zeal of a convert; it was shock treatment for the vines. "I was so convinced that I didn't need to run tests," she says. "We stopped all the chemicals in April 1988, all the fertilizers, the pesticides, the fungicides, we threw everything out," she recounts. "We started biodynamics naturally in September, after harvest 1988. So the '88 harvest is organic and the rest biodynamic."
In 1988, there weren't many winegrowers farming biodynamically. Bize-Leroy recalls that Jean-Claude Rateau and Emmanuel Giboulot, both in Beaune, were early adopters, with St.-Aubin's Dominique Derain, a former cooper, adopting the method a little later, but that was about it. Domaine Leflaive began organic viticulture in 1990, but it wasn't until 1998 that Anne-Claude Leflaive converted her prestigious estate to biodynamic cultivation.
Gregory Patriat remembers it as an amazing experience. "Biodynamics was new for me and so much different from what our neighbors were doing," he says. "I was very proud to work for [Bize-Leroy], she is so sensitive with nature in general. She talks to her vines or wines like she talks to somebody. She is really a purist."
For Bize-Leroy, biodynamics is a way of being, of thinking, not a method or a science or a school. "We absolutely get to know, to understand more and more our land, our vines, the vines of each parcel, and that is something we will never finish understanding," she explains. "It's a long, long, long, long story."
She is always researching and developing new tisanes (plant-based tinctures), and now, essential oils to treat her vines. "We have to fight against mildew, against oidium, against Esca. I'm confident we can't do it with fungicides, insecticides, pesticides-we'll do it with homeopathy, with essential oils and, of course, biodynamics," she declares.
In 1999, she stopped hedging her vines. She felt it was causing too much stress, and that trimming the apex bud affected the following year's pollination. Her vines are trained higher than in conventional pruning, and the shoot tips are curled around the top wire. It's easy to recognize Domaine Leroy's parcels by the specific morphology of the vines. They stand out in the region, much as she does.
The wines of Domaine Leroy and older vintages of Maison Leroy also stand out, not only for their quality, but for their prices, which are among the highest in an already expensive region. Much of this comes down to supply and demand.
At Domaine Leroy, the extremely low yields of roughly 1.1 tons per acre, less than half the allowable limit, translate to an average production of just 2,700 cases per year. The wines are released when Bize-Leroy feels they are ready. At Maison Leroy, she only sells what she wants to from her old stock. So, for example, the 2015 offering will include Domaine Leroy wines from 2006, 2007 and 2009, plus some mature wines, such as 1985s, from the Maison collection. The 2012s won't be available for another three to four years.
Awaiting these tiny allotments is a small but loyal group of customers who are willing and able to spend up to $5,000 or even more per bottle. For example, the village-level wines start at about $150 and can cost as much as $800; premiers crus range from $450 to $1,300; the grands crus will set you back from $700 to as much as $15,000 for the Musigny 2009.
Customers buy Domaine and Maison Leroy wines both for drinking and for speculation, according to Jeremy Noye, CEO of New York's Morrell & Company. "The wines are very sought after, and they get tremendous praise, but they are expensive and there is a lot of secondary trading in a very small circle," he says.
Few Domaine Leroy wines appear at auction, even at a time when Burgundy is trending strongly upward in the wine auction market. According to Wine Spectator's auction database, there were 112 sales in the United States of Domaine Leroy wines in the first two months of 2015 (half of all DRC sales for the same period, but about three times the number of Henri Jayer sales). The highest average price was $8,728 for a bottle of Musigny 2009; the lowest price was for Nuits-St.-Georges Au Bas de Combe 1997, at $285 per bottle. Nearly half the lots sold for $1,000 per bottle or more.
Wines from Maison Leroy appear even less frequently at auction-there were 21 sales between January and February 2015. Two-thirds of the offerings sold for $1,000 or more per bottle, peaking at $3,253 for a Musigny 1962. In 2006, a bottle of Montrachet 1966 reached a hammer price of $8,888.
For her part, Bize-Leroy says her wines aren't expensive enough. Perhaps she simply can't bear to part with them. "I sell just enough so that we can keep going," she says. "My clients are happy. My clients are partners. Maybe they think it's a little expensive, but it doesn't matter."
Marlon Abela, chairman of Marlon Abela Restaurant Corp. and an avid collector of Domaine Leroy wines, says it's the consistency in quality, even in off vintages, as well as Bize-Leroy's balance between style and terroir, that makes the wines great. "One of the main factors is consistency, and those who are able to produce such wines over generations or decades must be applauded for it," he says. "Even though the domaine is relatively young, the wines have been consistent. You have to take your hat off to her. She takes risks with low yields, and I don't think anyone gets that velvety texture, a creaminess even, without losing that vital concept of terroir."
As a result of her unusual business model, the Leroy cellars in Auxey-Duresses may house the greatest collection of mature Burgundy anywhere. What will happen to those wines, or indeed to the company, in the future remains a mystery. Bize-Leroy says there is a plan for succession in place, but will not elaborate on details.
Her daughter, Perrine Fenal, 52, lives in Geneva. She holds an advisory position with DRC, and Lalou calls her "a good taster." Bize-Leroy's older granddaughter, Philippine, 26, is beginning a career as a veterinarian in California. Younger granddaughter Roxanne, 24, is studying viticulture at the École Changins in Nyon, Switzerland, and has also studied business. Certainly Perrine and Roxanne could become involved in the future.
It's more likely that Frédéric Roemer, her sales director, will play some role in running the domaines and the négoce business. Bize-Leroy jokes that he is pushing her out the door, then adds that at 50, Roemer should already be looking for his own successor.
No matter what the future brings, Bize-Leroy has enjoyed an extraordinary career. Yet she is not ready to rest on her laurels. "I think that we're just at the beginning," she says. "The more we understand the vines, [the better] we'll do.
"It comes little by little, it's not days' work," she adds. "We now have 27 years of biodynamics. In the scale of geology, that is nothing. You can't change something in 27 years. It's a beginning. The next generations, if they continue like this, will make wines even better, more succulent, more just, more true."
And what advice would she give to those next generations?
"That they learn how to love their vines, how to understand them and care for them. To be very careful with them, give them a lot of attention, to go see them often. To not pilot them with a computer. To be conscious of their needs, to take care of them and to see how they react."
It is clear that Bize-Leroy loves her vines. She almost lost a complete harvest because she refused to place them in jeopardy by straying from the path she had chosen.
And those vines have given her fantastic wines. So too have have her choices in the négociant business, equally part of her history. Remembering her wines brings her pleasure, as if she were reconnecting with old friends. "I like them all," she beams. "I love the Chambertin '55. I haven't tasted it recently to see if it's still great. It's a companion. He was there since the beginning."