Located in the northeastern corner of France, neighboring Germany, Alsace has a winemaking history that dates back centuries. Key to this region's uniqueness is its position between the Vosges and Rhine faults. The significant geologic upheaval that happened here during the Tertiary period results in a rich tapestry of soils from the Proterozoic eon to the Quaternary period, a significant influence on Alsatian wines that makes this a distinctive and celebrated wine-producing area.
Alsace is situated along the eastern slopes of the Vosges Mountains, a range that creates a rain shadow where the vineyards are, allowing for a long, sunny growing season in this semi-continental climate. The two primary geological formations in Alsace are Vosges sandstone, which helps store water for dry periods as well as influencing temperature and creating a stable microclimate, and Muschelkalk limestone, which provides excellent drainage alongside its storied mineral character.
The soils of Alsace are incredibly diverse, with each vineyard exhibiting unique characteristics that influence the style and flavor profile of the wines produced there. Some of the key soil types found in the region include granite, marl, schist, and gravel, all of which influence wines in their own way.
Domaine Mann – Vignoble des 3 Terres takes full advantage of these varied terroirs, with plantings in several locations throughout Alsace, including the prestigious Grand Cru Pfersigberg. It is fascinating to look at their wines from different sites – though varieties may be the same, the wines provide different expressions and nuances that reflect their origins.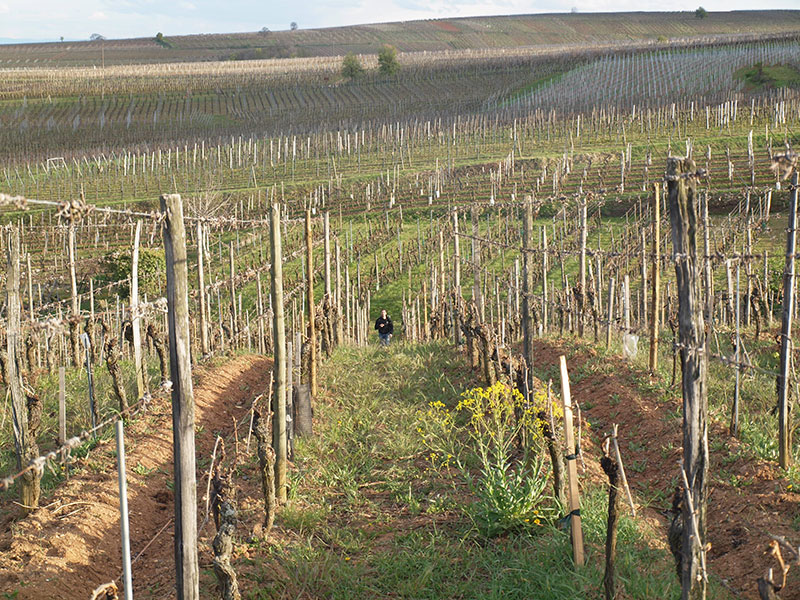 Grand Cru Pfersigberg, in the heart of the Haut-Rhin's string of Grand Crus, has a conglomerate subsoil made up of Muschelkalk and some Middle Jurassic limestones. The overlaying clay-silt marl retains water well, and the microclimate has a south-southeast exposure and is relatively hot and dry, allowing for greater sun exposure and earlier ripening grapes. Wines made from Riesling and Gewürtraminer in particular develop richness, elegance, power, and minerality from this vineyard location.
One of the lieu-dits of Pfersigberg, Sundel, is located in the heart of the hillside on a steep south-facing slope at 330 meters altitude. Here, the topsoil only extends to about 30 centimeters and is markedly stony. With a high concentration of limestone and a clay-like texture rich in iron oxides, this is a particularly dry and sunny microclimate. Riesling and Pinot Noir grown here are dynamic and concentrated.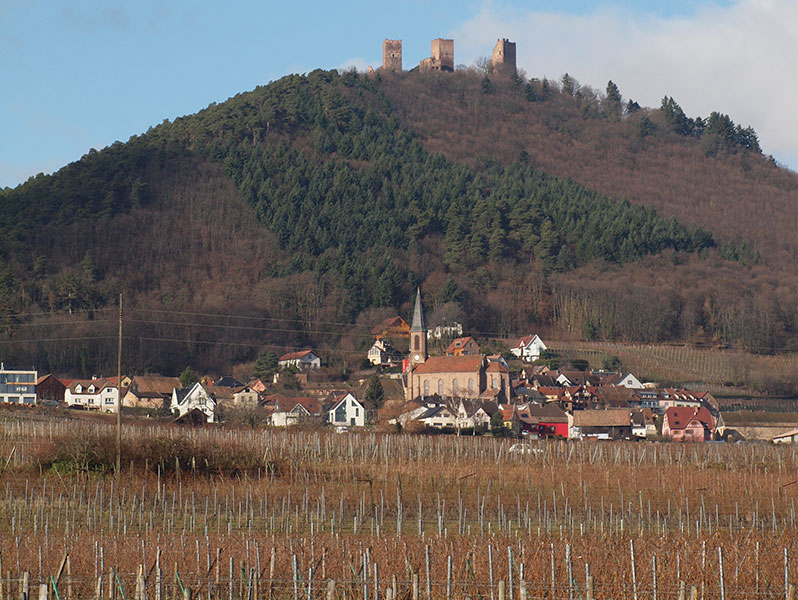 The Lieu-dit Altengarten lies to the south of Pfersigberg, near the Domaine Mann home commune of Eguisheim and slightly below the Grand Cru Eichberg. Its slopes face directly east and enjoy a balance of humidity in the winter and dry conditions in the summer, allowing for a long ripening season. This terroir is pink granite and sandstone over a bedrock of limestone that gives rise to a distinguished wine with well-developed mineral aromas. It is a classic site for Riesling.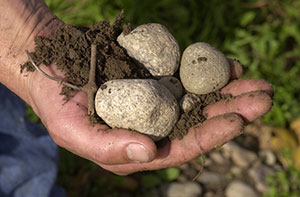 Tucked up to the north of Turckheim, Letzenberg is a northeast-facing plot that lies at an altitude of about 300 meters and benefits from well-drained clay-limestone soil. This terroir produces rich and expansive wines that retain ample citrusy freshness. It is a very good terroir for late harvests and is excellent for Riesling, Sylvaner, Pinot Gris, and Chasselas.
This selection of sites only scratches the surface of what Domaine Mann has to offer in its range of wines, to which the geological diversity and range of soils contribute significantly. This unique combination of geology, climate, and viticulture is highlighted in this great wine-producing region, and Domaine Mann is an estate that takes advantage of all the natural resources of Alsace.