Domaine Mann Vignoble des 3 Terres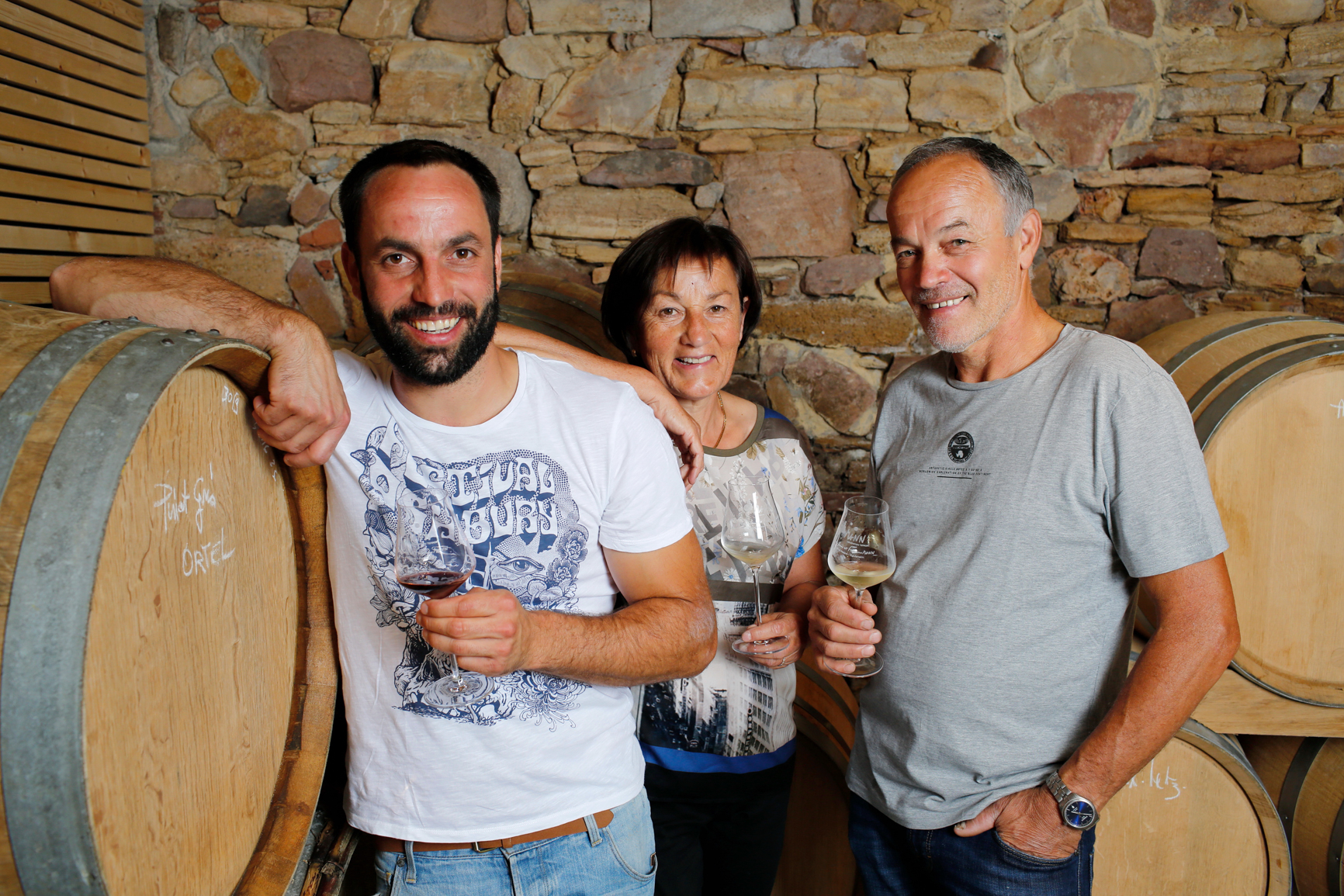 Founded in the picturesque village of Eguisheim following WWII, Domaine Mann – Vignoble des 3 Terres is now helmed by Sébastien Mann, who joined the family estate in 2006.
Looking to gain experience from many regions, Sébastien trained in Champagne, the Rhône, Austria, and Australia before returning to his home region.
Domaine Mann – Vignoble des 3 Terres has been certified organic since 2008 and achieved its Biodyvin certification in 2015.
Planted to 12.8 hectares of local varietals, the estate produces vins des soif from young vines as well as single vineyard wines (some of Grand Cru status).
Sébastien is hands-on throughout the winemaking process and produces wines that represent the best of Alsace.
A rising star in Alsace, Sébastien Mann joined the family estate in 2009 with a passion for viticulture. His family inherited the land in Eguisheim following WWII, and his parents, Jean-Louis and Fabienne, inherited the property from Jean-Louis' parents in 1982. Previously known as 'Mann Henri,' in 1998, they decided to make their first wines under Jean-Louis et Fabienne Mann's name. A region steeped in tradition and pedigree each generation has imprinted a signature on the family Domaine. One of three brothers, Sébastien, pursued a BTS in Oenological Viticulture before further expanding his knowledge by seeking experiences such as in Champagne (Vouette et Sorbee and Bertrand Gautherot), Côte Rôtie (Pierre Gaillard), Austria, and even Australia, returning home with an innovative perspective. In addition, he worked in Alsace with such highly regarded producers such as Albert Boxler, Barmes Buecher, and Julien Meyer.
The Estate has been certified organic since 2008, biodynamic since 2010, and Biodyvin certified in 2015. The 12.8 hectares (12 to white varietals and .8 to red) are planted with the following grapes: Sylvaner, Chardonnay, Pinot Gris, Pinot Blanc, Riesling, Gewurztraminer, Muscat à Petits Grains Blancs, Auxerrois, and Pinot Noir.
There are three main categories to the wines:
Vins de Soif: A single varietal, or blend, from young vines; the wines are ethereal, fresh, dry, and fun.
Vins de Terroir: Single vineyard wines, not of Grand Cru status, complex yet approachable in youth.
Grand Cru: The crème de la crème, of which two are produced: Eichberg and Pfersigberg, both layered and age-worthy and considered some of the most sought-after white wines in the world.
In addition, he produces two superb Pinot Noir, Vendanges Tardives, and SGN. The grapes are hand harvested, vinified with whole grape maceration, indigenous yeast, and aging sur lees. Sébastien creates a delicious Cremant D'Alsace Brut Nature with partial barrel aging from his knowledge gained during his stage at Vouette and Sorbée in Champagne.
More importantly, the Domaine represents a style we have long sought in Alsace; the wines are singular, pure with superb balance and a stately complexity. Sébastien implemented a sweetness scale on the back label that considers the sugar, alcohol, and acidity levels, designed to preview the wine. In a world where Alsatian wines confuse the savviest of drinkers because of the unknown dry or sweetness factor, it is one of the most accurate depictions seen in Alsace.
It is a family with intricate knowledge of the various Alsatian terroirs. Their property represents multiple soil types, grape varietals and the wines reflect the vineyards' unique character. Sébastien embodies a new generation of talented vignerons producing beautiful wines balanced in their power, extract, and finesse.
Martine's Wines is the exclusive U.S. importer for Domaine Mann Vignoble des 3 Terres except in MO and NC.