About 2 years ago I started thinking about a transition from working as a sommelier and manager in restaurants to the distribution side of the business.  I found myself connecting very much with the reps who I purchased wine from as a buyer, and feeling very attracted to the fluidity with which they moved about the city.  Checking in on everyone's programs, familiarizing themselves with a small group of wines and speaking knowingly of the people who made those wines, and possibly most alluring: making their own schedule!
It took me a long time, (mostly thinking without actually applying for jobs in the wine business) to come to a place where I was ready to make this leap, and with a company I felt so strongly was the right fit for me.
I started working for Martine's in August 2014.  I took a week off between my last day at Momofuku Ko and my new job, which I and pretty much everyone in the restaurant business would consider my new "adult" job!  After years of eating buttered toast at 2am and working every holiday weekend, I was ready for a change.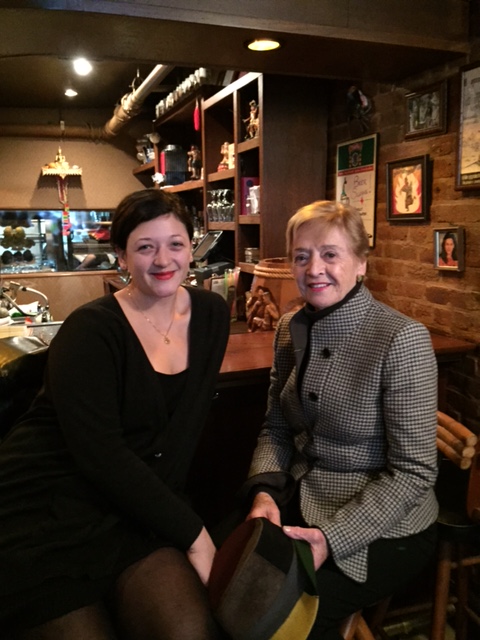 I love working in restaurants.  I love the energy, the experience we provide for guests, the look, smell and taste of all of the incredible food I have had the privilege of serving over the years.  I miss the camaraderie that comes with spending 10-12 hours a day, 5 or 6 days a week with the many casts of characters with which I've shared that pleasure.
With selling wine comes new challenges and different delights.  I've been surprised by the buyers I connect with.  Some of my most valuable and unique relationships are with the people I least expected, and in restaurants or shops I most likely would not have found myself.
My biggest challenge has been planning my day in a way that feels productive when I don't have many (or any!) set appointments, and staying motivated to walk in to an account without an appointment to say hello.  These challenges ease everyday; and with every first meeting, you know that the next will be better, and slowly it will sometimes even be joyful for buyers to see you and catch up.  This job is relationship based, and in the same way I hated to admit that I missed my colleagues after a few days out of the restaurant; all of your accounts are your colleagues, and after a few weeks or a month goes by it can feel very good to escape to a corner of the restaurant and have the pleasure of sitting down with someone who runs around in a bustling environment all day long and taste wine together.
Successful days look different all the time.  Some days walking into a new account and being received in a refreshing and thoughtful way sends my spirits so high that I continue to walk into more accounts with confidence and grace.  Other times you catch someone at a rough moment, or go out of your way only to find that the buyer isn't in that day and success is going home, making a cup of coffee and catching up via email or researching your wines.
I'm not usually awake these days for toast at 2am, but sometimes after an evening out visiting an account I feel very thankful for my ability to continue to feel connected to the places and people I love in a new way, through bringing them a collection of wines I feel very proud to represent.