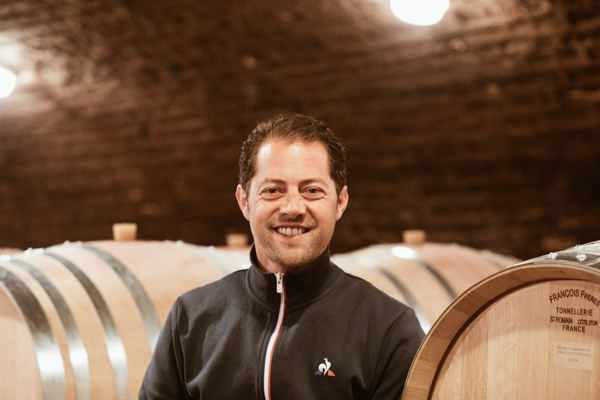 Domaine Denis Mortet, in the family since 1956, is now run by Arnaud Mortet, who took over in 2006 after his father Denis' death.
While continuing his father's legacy, Arnaud has also made changes of his own, including more traditional techniques both in the vineyard and in the cellar.
Vinification is done almost exclusively by hand, including the use of horses to plow all the 1er and Grand Crus.
After hand harvest, the grapes see a strict selection in the cellar and are made in a very non-interventionist fashion. They are bottled unfined and unfiltered.
Arnaud's wines are regularly praised for their outstandingly precise nature and the future of this estate is in excellent hands.
A supremely talented vigneron and currently at the helm of Denis Mortet, Arnaud Mortet is routinely praised for his work in the vineyards. Founded by his grandfather, Charles, in 1956, Arnaud took control in 2006 after the death of his legendary father, Denis. He continues his father's legacy of making refined, elegant wines along with his sister, Clemence, and his mother, Laurence.
Arnaud's wines are reaching new heights as he embraces more traditional vinification and viticulture techniques. The majority of the vineyard care is accomplished by hand, including horses plowing all 1er and Grand Cru vineyards to minimize soil compaction. Since 1996, chemical fertilizers and herbicides have been avoided in the vineyards, using crop cover of chickweed to help provide health of the vines. Yields are kept very low, and small crates are used to protect the berries during harvest. In the cellar, grapes see gentle macerations and a reduced percentage of new oak. The grapes undergo a strict triple sorting upon arriving at the estate, and the wines are bottled unfined and unfiltered.
A perfectionist by nature, Arnaud makes superbly finessed and precise wines as he continues to evolve this domaine.
Martine's Wines imports Domaine Denis Mortet in AR, CA, CO, FL, GA, HI, IL, LA, MI, NC, NM, SC, TX and WA.