An article by Elin McCoy from Wine-Seacher.com. Enjoy!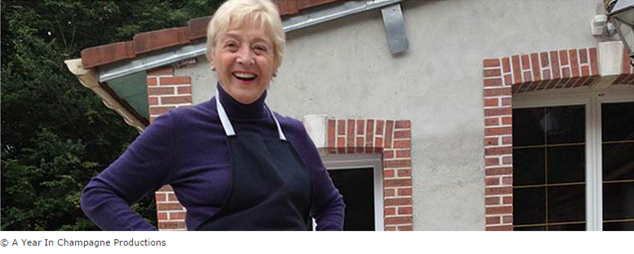 On a warm evening last summer at the International Pinot Noir Celebration's grand dinner in McMinnville, Oregon, importer Martine Saunier, slim and chic in a white tunic, was pouring wines from the stellar portfolio she started building back in 1979. As I sipped a dazzling 1989 Domaine Leroy Clos de la Roche, I thought of how much she has shaped the landscape of French wine in America in the past 35 years.
Two months later, over lunch in New York, I finally hear the whole story of how this petite French woman became one of America's pioneer importers.
"I grew up in Paris, but I spent every summer of my childhood in southern Burgundy," she says. "My aunt had a house and vineyard near Mâcon and I loved everything about winemaking."
She learned about fermentation at a young age and when her parents took her to restaurants she would cry until they put a few drops of wine into her glass of water.
Still, her route to the wine business was not a straight line. Her first job was with British Airways, taking care of VIP passengers at Le Bourget, Paris' first commercial airport. She remembers one vividly: theoretical physicist J. Robert Oppenheimer. "His blue eyes,'' she says, "were like bullets."
Later, she became the first woman executive in public relations at Swiss Air, then went to the West Coast to work for Japan Airlines.
In 1964, marriage to an American radiologist rooted her permanently in the Bay Area, where she drank California Cabernet, but couldn't find a retailer that carried her favorite Burgundies. Legendary Beaulieu Vineyards winemaker André Tchelistcheff told her if she wanted great Pinot Noir, she'd have to go back to France and bring them in herself. After a San Francisco importer suggested she hunt down French wines from small estates for him, her career was launched.
"There were no women in the wine business then," she explains. "We were supposed to marry and shut up."
On her first buying trip, in 1969, she picked up a Volkswagen beetle in Amsterdam and drove to France. "The fact that I was French, knew about making wine, and had a good palate were why producers trusted me," she says. She didn't know people in the Loire, Jura, or Cahors, but says winemakers would give her the introductions. "I'd taste and my palate told me what to do. For me, it's quality above everything."
One of her most memorable encounters on that trip was with Louis Reynaud of Château Rayas in Châteauneuf-du-Pape.
"He was taking his siesta when I arrived, so I waited outside for two hours before he woke up, took me to this dusty, dirty cellar and opened the best wines I'd tasted up to then, 1959 and 1961 Rayas." She snapped up 50 cases for the grand sum of $2.50 a bottle wholesale. Her employer thought they were too expensive, but Saunier sold them all through a newsletter she sent to a list of medical friends.
"I created my reputation on a handful of producers," she says with a laugh. "Rayas was one of them."
Another was the late, great Henri Jayer, whose Burgundies now have cult status. "When I first visited his cellar in 1974, it was packed with 1972s that he couldn't sell," she says. "He looked at me like I was salvation. Well, I came at the right time."
In 1979, Saunier, now divorced, started her own company, Martine's Wines, with funds from a second mortgage on her house. Initially she sold almost all her wines to top restaurants because unknown small producers did poorly in retail shops.
"Wine was only for the sophisticated then in California," she says. "Regions of France like the Loire and Rhône valleys, Jurançon, the Languedoc, weren't known. That's all changed. Even obscure wines like Irouléguy sell now. There's been a revolution of the American palate."
Among the U.S. merchants she admires today are Morrell's and Chambers Street Wines in New York, Ferry Plaza Wine Merchants in San Francisco, Brown Derby in Springfield, Missouri ("they supported me from the beginning"), and MacArthur Beverages in Washington, D.C.
Burgundy and the Rhône are at the heart of her portfolio. Among her stars is Burgundy's famously fierce grande dame, Lalou Bize-Leroy. After a tasting with the Maison Leroy chef de cave, Saunier received a phone call from Leroy asking for her help in finding a Bay Area warehouse. "I ended up being her renovation contractor,'" explains Saunier. "When she visited, I brought her wines to dinner with chef Jeremiah Tower, who had never tasted them. Then she asked me to represent her. The first vintage I bought was her fantastic – and very expensive – 1985."