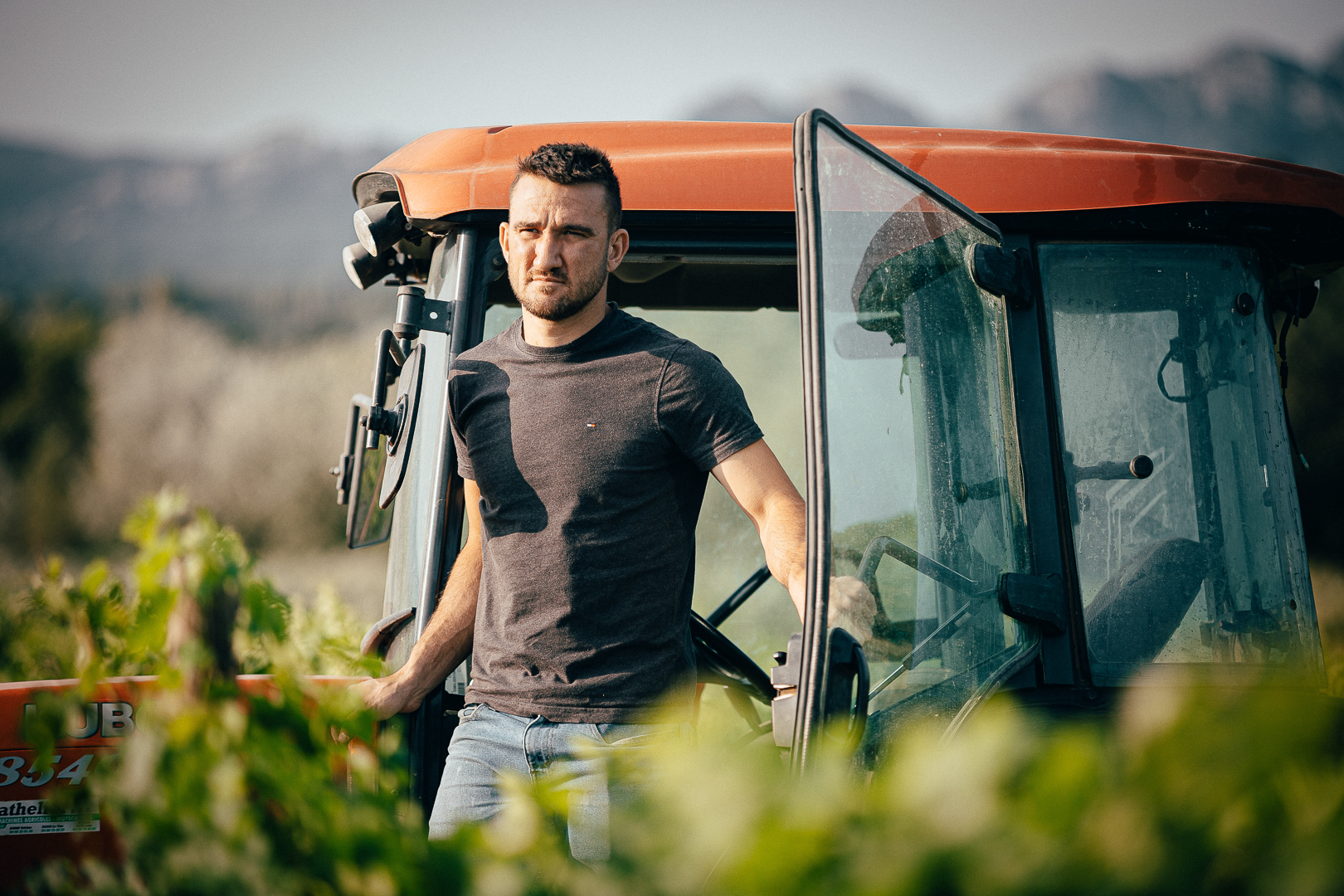 Based near Saint-Rémy-de-Provence, Domaine Fontchêne is an exciting new project from René Milan. Working with family vineyards, René has converted his land to organic and biodynamic farming, guided by local natural winemakers like Eloi Dürrbach and Dominique Hauvette.
Work in the vineyards is of paramount importance and includes ébourgeonnage in the spring and biodynamic preparations.
Fermentation and aging are non-interventionist, with native yeast, sulfur used only at bottling, and limited bâtonnage and racking.
René strives to produce authentic wines, where balance and freshness take precedence over concentration and power.
Once in a great while, we come across a new estate that leaves us speechless, one that produces wines with so much depth and complexity that they stop you in your tracks. Domaine Fontchêne is just such a property.
Current owner and winemaker René Milan was born and raised in the neighboring village of Saint-Rémy-de-Provence and took over Domaine Fontchêne in 2013. The vineyards were initially established by René's grandfather and the estate was farmed conventionally, with wine being sold to the local co-op. René is defined by his curiosity and capacity for learning, so when he decided he wanted to enter the wine business, he attended hôtelier/catering school in addition to taking enology classes because he wanted to understand the connection between dining and wine. After an internship at nearby organic and biodynamic Château Romanin, René decided to convert his family estate from conventional farming. For the next two years, he revitalized the soils from previous chemical treatments while also gleaning information from local natural winemakers like Eloi Dürrbach of Domaine de Trévallon and Dominique Hauvette of Domaine Hauvette.
This soil composition at Fontchêne is more like that in Côtes-du-Rhône and Châteauneuf-du-Pape, with its white and blue clay, sand, and the large pebbles known as galets roulés. René believes that if he grows well-ripened grapes, he will make great wine because the terroir he has is excellent. He continues to put his efforts and focus into the vineyards, and soil work is his passion.
Work in the vineyard includes ébourgeonnage (debudding) in the spring so grapes aren't exposed to sun and so they ripen more homogeneously. The work requires three passes per hectare and is done when vines are still green. When René needs to replant vines, he uses only selection massale. No weed killers, pesticides, or similar products are ever used, only natural preparations and teas to spray in the vineyard while minimizing the use of copper. Biodynamic principles are followed in the vineyard, with special emphasis on 500 and 501 biodynamic preparations, as well as treatments with horsetail, nettle, chamomile, lemon essential oils, and valerian extract. René stopped cutting the vine apex in 2018, instead training the growth under wines.
Harvesting is entirely by hand, in small cases of 15 kg. All the parcels are vinified separately with native yeast and without sulfur. White and rosé are direct press with natural settling for 24 hours at 15 degrees Celsius. After settling, the wine goes into barriques, amphora, or stainless steel (depending on the cuvée) for long lees aging with limited bâtonnage and limited or no racking.
René's thirst for knowledge remains unquenched as he continues to refine his style. He continues to seek out natural wine producers he can learn from, and is working with Italian vine pruning experts Simonit and Sirch. His work at Domaine Fontchêne is the product of an artisan who is passionate about his origin, his terroir, and his region. Rene is a force of nature, his creativity firing on all cylinders while he also displays an endless willingness to learn more about his craft.
Martine's Wines is the exclusive U.S. importer for Domaine Fontchêne.