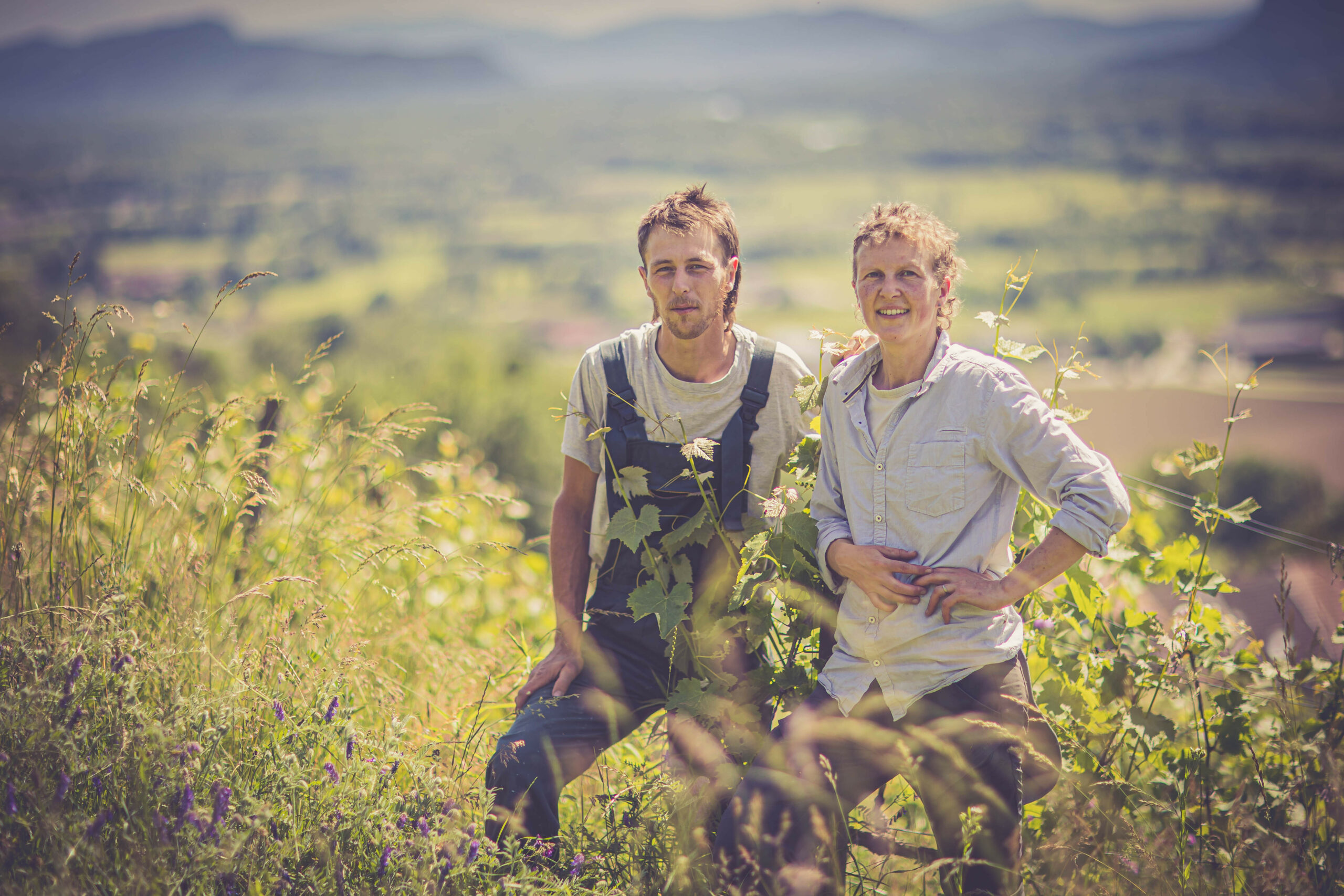 These vineyards were tended for many years by the trailblazing Jacques Maillet, who passed them on to Florian and Marie Curtet after a long apprenticeship.
Converted to organic agriculture in the early 2000s, these wines are now made according to the principles of biodynamics.
Florian and Marie are true iconoclasts, encouraging biodiversity throughout their estate, even planting trees in the middle of the vineyards.
Their approach to winemaking is completely non-interventionist in the cellar, and production is intentionally kept to only 2000-2500 cases per year.
The Curtets follow their own path, prioritizing ideals over commerce. Their convictions shine through in every bottle.
After many years of apprenticeship, Florian and Marie Curtet have risen as the successors to the dynamic Savoie producer, Jacques Maillet, who made his last vintage in 2015. They have christened their new venture Domaine Curtet, comprised of the same 5-hectare estate on the hillsides above the Upper Rhone River near Switzerland.
Two different vineyard sites highlight the estate's holdings. Gamay and Pinot Noir are planted in the commune of Serrieres en Chautagne in the lieu-dit Vignes du Seigneur-or "The Vines of the Lord." Nearby, in Motz's village, the traditional Savoie grape varieties of Mondeuse, Jacquère, and Altesse are found in the vineyard known locally as Cellier des Pauvres-or "Cellar of the Poor." The couple farms their land biodynamically, with Florian proving to be a master at implementing teas and infusions as he cares for the land. They have adopted Maillet's spirit, choosing to work "Autrement" in the vineyard and the cellar. Their approach is devoutly non-interventionist.
Their creativity echoes through every facet of their process-down to the dragonfly on the domain's labels, signifying the deft touch of nature they showcase in every bottle. The wines of Domaine Curtet exhibit a crystalline precision and purity–embodying the best of what the unique terroir has to offer.
Martine's Wines is the exclusive U.S. importer for Domaine Curtet with shared rights in New York.