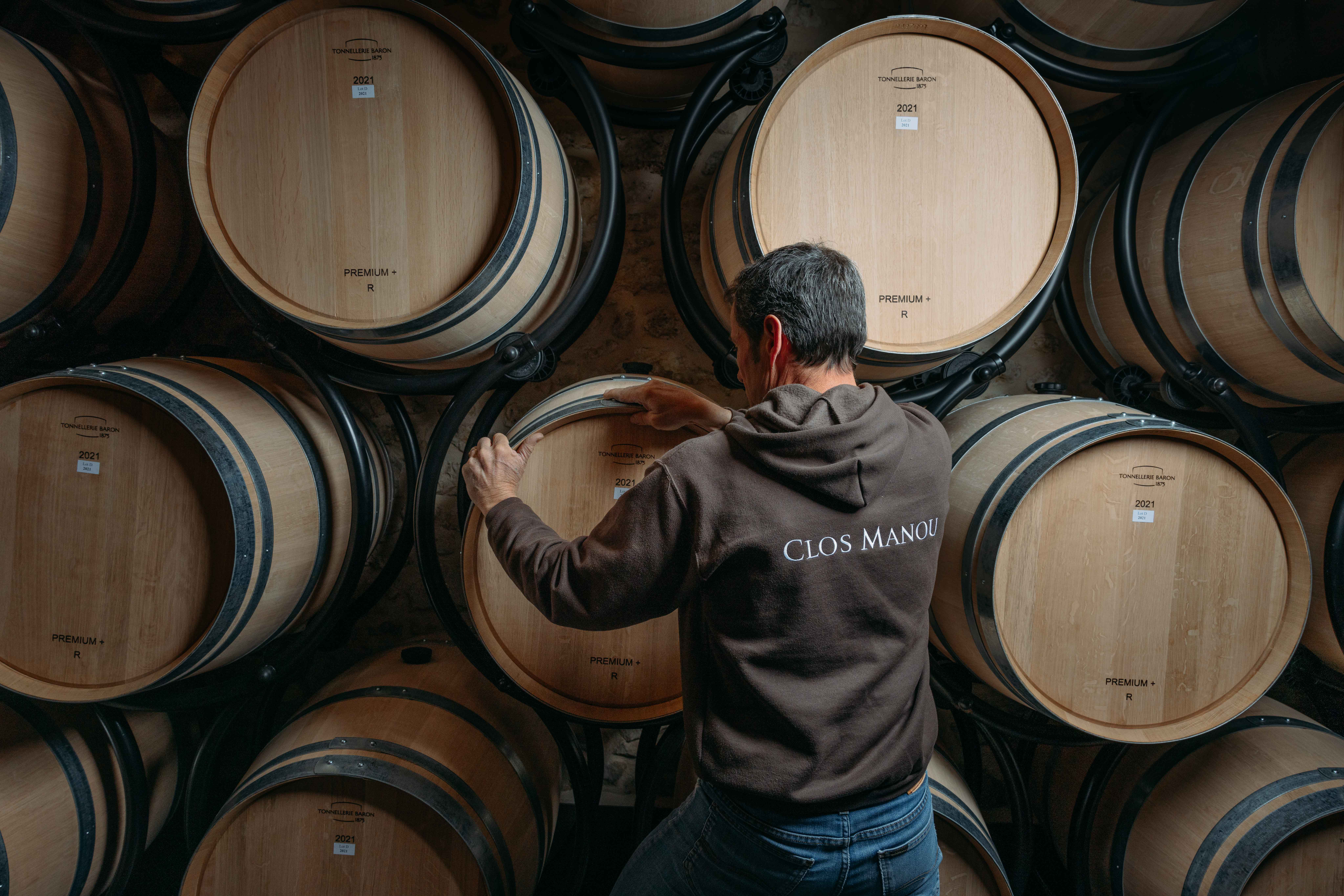 Clos Manou was founded in Françoise and Stéphane Dief's garage in 1998. It has since grown to an estate of 18 hectares.
Farming practices are organic, using sustainable methods, and all work is done by hand.
The flagship wine, Clos Manou, is a Cabernet Sauvignon- and Merlot-led blend aged in a combination of new French oak, concrete eggs, and terracotta amphoras.
The second wine, Petit Manou, is mostly Merlot and ages entirely in one-and-two-year-old oak barrels.
Clos Manou makes the most of its Médoc terroir, producing wines that show a profound sense of place, with dark aromatics, excellent minerality, and supple tannins.
Driven by a passion for wine, Françoise and Stéphane Dief founded Clos Manou in their garage, producing their first vintage in 1998. Over the intervening 20 years, they focused on acquiring their ideal parcels of land and now farm 18 hectares. They vinify in a fully restored cellar in the village of Saint-Christoly de Médoc, in two environmentally-friendly barrel aging cellars equipped with Oxoline tins, and a further cellar with 700-liter concrete eggs and 800-liter terracotta amphoras.
The Clos Manou vineyard comprises equal parts of three distinctive, complementary soil types – gravel, colluvial sands, and Couquèques limestone. Deep gravel, located on the edge of the Gironde estuary, brings finesse, power, and depth to the wines. Colluvial sands help create elegant aromas and a fine tannic structure. The Couquèques limestone is a cooler, more fertile soil that contributes richness and concentration. The plots are densely planted to 10,000 vines per hectare.
Clos Manou grows four varieties of grapes – 53% Merlot, including one parcel of land dating from the 1850s, which survived phylloxera, 43% Cabernet Sauvignon, 2% old-vine Cabernet Franc, and 2% massale selection Petit Verdot. Each parcel of vines is managed individually, with soil testing and vine analysis, ensuring the grapes represent the best of their terroir.
Only organic fertilizers are used in the vineyard, and all farming practices are carried out by hand, including harvest. When the grapes arrive at the winery, the grapes are sorted twice, with all pre-fermentation operations carried out under a carbon dioxide blanket to prevent oxidation. The grapes are fermented at a low temperature. Extraction is done by pumping over in concrete vats and manually punching down the cap. The grapes are left to macerate for 20 days with daily lees stirring.
The estate produces only two wines, the flagship wine Clos Manou and the second wine, Petit Manou. For Clos Manou, 70% of the wine is aged for 17 months in new French oak, medium-toast barrels. For the first ten weeks after being transferred to barrel, they are rotated once per week using the Oxoline system, which suspends the lees and gives the wine an integrated texture. The remaining 30% of the wine is aged in concrete eggs or terracotta amphoras. For Petit Manou, the wine is treated in the same method during vinification and is aged for 12 months in barrels previously used for one and two years to age Clos Manou. Racking is carried out twice during the aging period, and the wines are bottled without fining or filtering and under carbon dioxide to prevent premature oxidization.
The wines produced by Clos Manou represent the potential of the new style of Bordeaux – wines handcrafted with great care and organic farming that are also accessible to consumers. As Françoise and Stéphane put it is "the kind of wine we love to drink, carefully crafted down to the finest detail, a very precise wine we know you'd love to drink too."
Martine's Wines is the exclusive U.S. importer for Clos Manou.