It has been a real pleasure having Clémence Mortet join us for the past 3 months as an intern in our California office. As she wraps up her time here at Martine's Wines, we asked her for some thoughts on her visit to the US.
I have loved my experience here since my first day. I remember the first time I crossed the Golden Gate bridge, despite my tiredness from my flight, it was so amazing!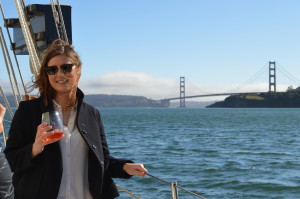 From my first moment at Martine's Wines, I knew I had found a very good home. My experience here has been great because I needed to improve my English for my job in France. I work with my brother and my mother at Domaine Denis Mortet. In the future I would like to host tastings for our English-speaking customers and from the office I communicate with our customers and sometimes need to write in English.
During my internship, I worked in the marketing department. I worked a lot with email so now it's easier for me to read and write English. And I think I speak better… the others know, I think! I worked a lot with Melissa, she's very nice and I loved being her co-worker during these 3 months. My job was really interesting, I learned about other winemakers from California, Italy, Portugal and France through the tastings and the reviews on which I worked.
At the end of April I was happy to meet everyone from the New York and Chicago teams during the company meeting in California over 2 days. I loved these days, we had a great time and we tasted very good wines and food. My favorite moment was on the sailboat "Freda B", these 3 hours were amazing and I saw the beautiful landscape from the bay of San Francisco, we sailed by the Golden Gate, Alcatraz, and the city.
I was at the Martine's Wines office every day except every Thursdays. Every Thursday I took the ferry from Larkspur to go to work at the Ferry Plaza Wine Merchant in San Francisco.  It was a real pleasure to go to work this way! My work in Ferry Plaza Wine Merchant was really different from anything I have done. In the shop they sell wines from all around the world. It is a beautiful shop with a very nice team. I tasted different wines from the United States –  Napa Valley, Sonoma and Oregon – as well as wines from Italy and France.
The Ferry Building is very popular with lots of people visting, my job was to tell people about the wines. They asked many questions, especially because of my French accent, it always intrigues people!
I'll miss California for the landscape, the constant sun, the beautiful Golden Gate, the mountains, the ocean and the city. It's completely different from France. And of course I'll miss the team at Martine's Wines and Ferry Plaza Wine Merchant, as well as my new friends here! But I love my Burgundy, and I will be happy to see my family and friends!
So, to finish, I think the most awesome thing for me here has been the kindness and the good humor of people. Everybody is nice, if you need help, there is always someone there for you. Maybe it is due to this Californian sun? Here we see the sun everyday, and for this, I don't miss my Burgundy!
I want to thank the team for this warm welcome. It was a real pleasure to work with you and I'll miss you.  Thank you for your help and your kindness.