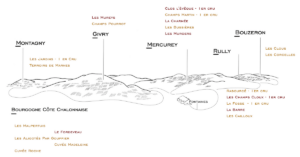 Covering about 5000 hectares that lie between the Côte de Beaune and the Mâconnais, the Côte Chalonnaise is an area that is stepping into its own. Boasting complex geography and a diversity of climats, ever more talented vigneron are taking up residence here, and the potential of this unique, 35-kilometer stretch of land becomes clearer by the day.
Today, we are focusing on two appellations within this region. Montagny, in the south, is known for producing racy, flavor-rich white wines, and Mercurey, further north, noted for its fruited, mineral-driven reds. In doing so, it's our pleasure to be able to showcase the wines of the dynamic young producer Frédéric Gueugneau of the Gouffier estate.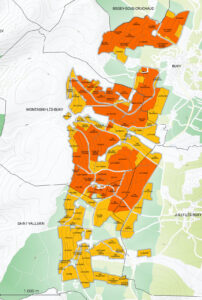 MONTAGNY
Dedicated exclusively to the production of white wines, Montagny is the southernmost appellation in the Côte Chalonnaise. It is also one of the oldest, created in 1936. Situated on brown, thin layered soils and marly limestone over a Kimmeridgian bedrock, similar to that of Chablis, this is a Chardonnay-lover's paradise that produces a variety of different styles of this beloved variety.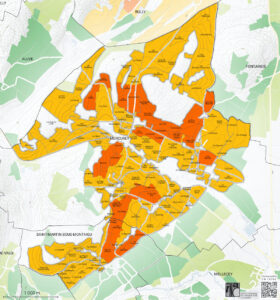 MERCUREY
Producing about 80% Pinot Noir and 20% Chardonnay, the appellation of Mercurey extends just south of Rully. This is one of the most diverse areas in Burgundy, with soil types that echo both those of the Côte de Beaune and the Côte de Nuits, in addition to a wide range of exposures and altitudes.
Structured as an amphitheater that opens to the east, millions of years ago the vineyards of Mercurey were under a tropical sea, while numerous sedimentary layers built up. After the waters receded, what was left was a terroir composed of soils from the Middle, Upper, and Lower Jurassic periods, yielding a multitude of microclimates. However, the throughline of Mercurey has to be the stony soils over hard limestone strata that produce remarkable Pinot Noir.
ABOUT GOUFFIER
The Gouffier estate has been in existence for nearly 200 years, albeit under a variety of names. After working with Jerome Gouffier off and on since childhood, Frédéric Gueugneau assumed control of the estate in 2011 after Gouffier's death. He now works with partner Benoit Pagot. Frédéric drew from his experience at La Chablisienne to improve the property, also instituting organic farming practices. All these Côte Chalonnaise expressions are aged in wood from Doreau Tonneliers, and every effort is made to ensure the perfect match between barrel and wine. The attention to detail is apparent throughout the portfolio, as Frédéric and Benoit bring a level of perfectionism to each of their cuvées.