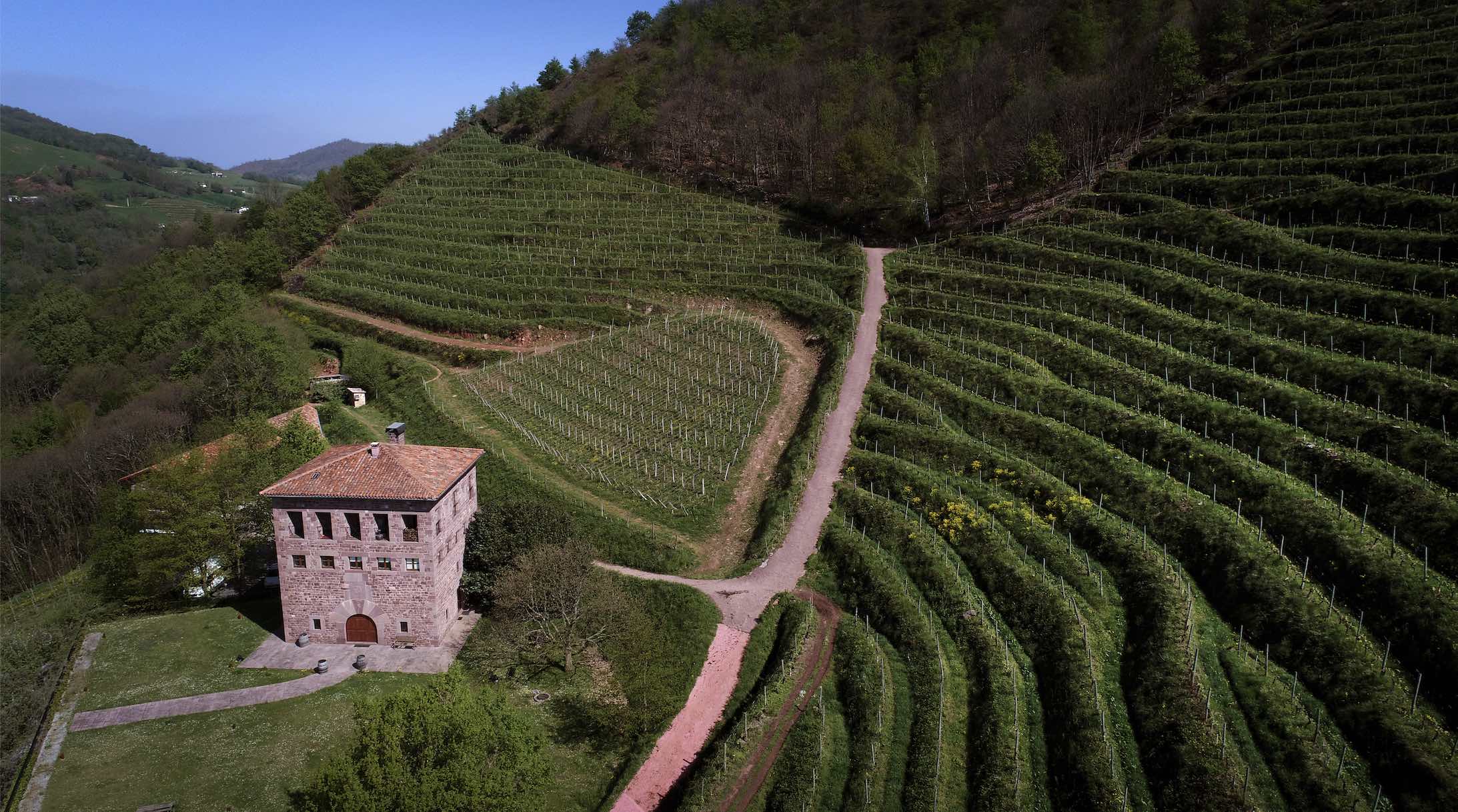 The winemaker for over three decades at Château Pétrus, Jean-Claude Berrouet eventually came back to his native region, inspired to make wines that speak of this place.
He purchased the property that would become Herri Mina in 1992. In Basque, herri means "country," and mina means "homesick."
Now in his 80s, Jean-Claude has turned over daily operations to siblings Jean and Martine Brana, Basque Country natives who enjoy a close relationship with Jean-Claude.
Planted close to the Atlantic coast, these vineyards enjoy the climatic influence of the ocean.
Herri Mina offers one white made from Gros Manseng, Petit Corbu, and Petit Manseng and one red made in small quantities from Cabernet Franc.
Located in an area renowned for its independent and strong ancestral culture, the Basque Country is in the southwestern-most part of France, just half an hour from Spain. Here, Irouléguy received its appellation contrôlée in 1970, with about 100 hectares of vineyards cultivated by 60 growers. Jean-Claude Berrouet is an Irouléguy native who left home to serve for more than three decades as the winemaker at Château Pétrus. However, the Basque region has a powerful pull, and Jean-Claude eventually returned home to his native soil. He purchased his four-and-a-half-hectare property in 1992, naming his estate Herri Mina. In Basque, herri means "country," and mina means "homesick."
More recently, brother and sister Jean and Martine Brana have taken over management of the vineyards. A native of the Basque region, when Jean was in his early 20s, he had an internship at Pétrus, which is where he met Jean-Claude. After finishing his studies, he returned home, planting, terracing, and tending his family's vines. When his father tragically died shortly thereafter, Jean's relationship with Jean-Claude deepened, and when Jean-Claude wanted to create a wine in Irouléguy, it only made sense to collaborate with Jean and Martine. They found the site for Herri Mina together, and to this day, the siblings make the wine and do all the blending under Jean-Claude's consultation. Martine mainly focuses on her passion for distillation with eau de vie, and Jean concentrates on the wines.
Jean makes a splendid white blend of Gros Manseng, Petit Corbu, and Petit Manseng. The vines are planted on the somewhat steep, south-facing slopes of the Pyrénées, no higher than 400 feet above sea level, to enjoy the climatic influence of the Atlantic. The estate also produces a character-driven red wine from 100% Cabernet Franc in small quantities.
Herri Mina's offerings are perfectly made, clean, and bright, with more complexity than is often found in the region. These wines are seductive, delicious, and a perfect representation of the Basque Country.
Martine's Wines is the exclusive U.S. importer for Herri Mina.