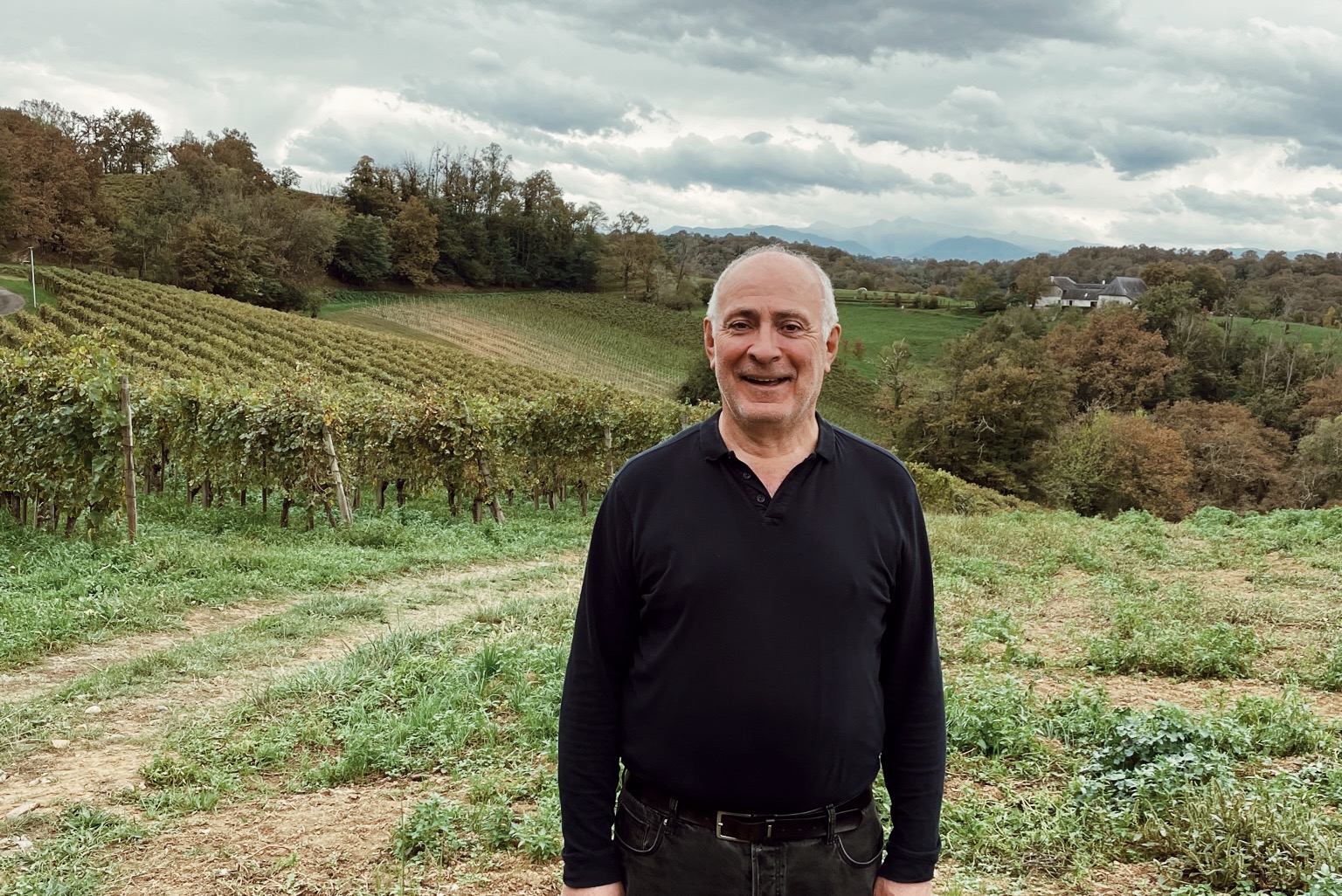 Located at the base of the Pyrenees Mountains, Jurançon is a hidden gem of an appellation in southwest France.
Winemaker Charles Hours quietly crafts his wines here, wearing his signature smile and beret while working in the vineyards.
He makes two wines, one a Jurançon Sec called Cuvée Marie that employs local grape Gros Manseng to its best expressive, floral, minerally effect.
Charles' sweet wine, the Clos Uruolat, is made from Petit Manseng that is partially dried on the vine and picked in several passes.
These wines celebrate the unique history of Jurançon.
Like generations of growers before him, Charles Hours takes great pride in the rich history and quality wines of Jurançon, a hilly, relatively cool region in southwest France, at the base of the Pyrénées Mountains. Charles is friendly and kind, often found wearing his signature smile and beret while working in the vineyards.
Though this is a humid and rainy area, due to its proximity to the mountains, it's only 80 kilometers from the ocean, a balance that helps promote freshness in the wines. Jurançon has a tradition of polyculture, and the estate is 28 hectares of forest and prairie and 14 hectares of vines that are lined by trees. The vineyards are worked naturally with no herbicides or pesticides, and the only treatments used are for odium and mildew, due to the humidity. The oldest vines were planted in the 1950s, with high trellising (2.5 meters) intended to protect the buds against spring frost. Alternate rows of soil are tilled, with the other rows grown to natural grass, alternating every year. Half of the vines are Gros Manseng, cropped at 40-45 hl/ha, and the other half are Petit Manseng, which yields 20-25 hl/ha. In the winery, the juice is gravity-fed to press. After direct press and chilling, the must settles in stainless steel tank, then is racked into barrel for fermentation. Barrels are 225L and range in age from new (5-10%) to ten years.
For the dry Jurançon Sec, called Cuvée Marie, Charles uses Gros Manseng. The wine is very expressive, floral and mineral, with great weight on the mid-palate. For his sweet, late-harvest Jurançon, Clos Uroulat, several passes are made through the vineyard, hand-selecting grapes. The small, thick-skinned Petit Manseng are picked after they are partially dried on the vine, and the result is an extremely elegant wine.
Martine's Wines is the exclusive U.S. importer for Charles Hours.