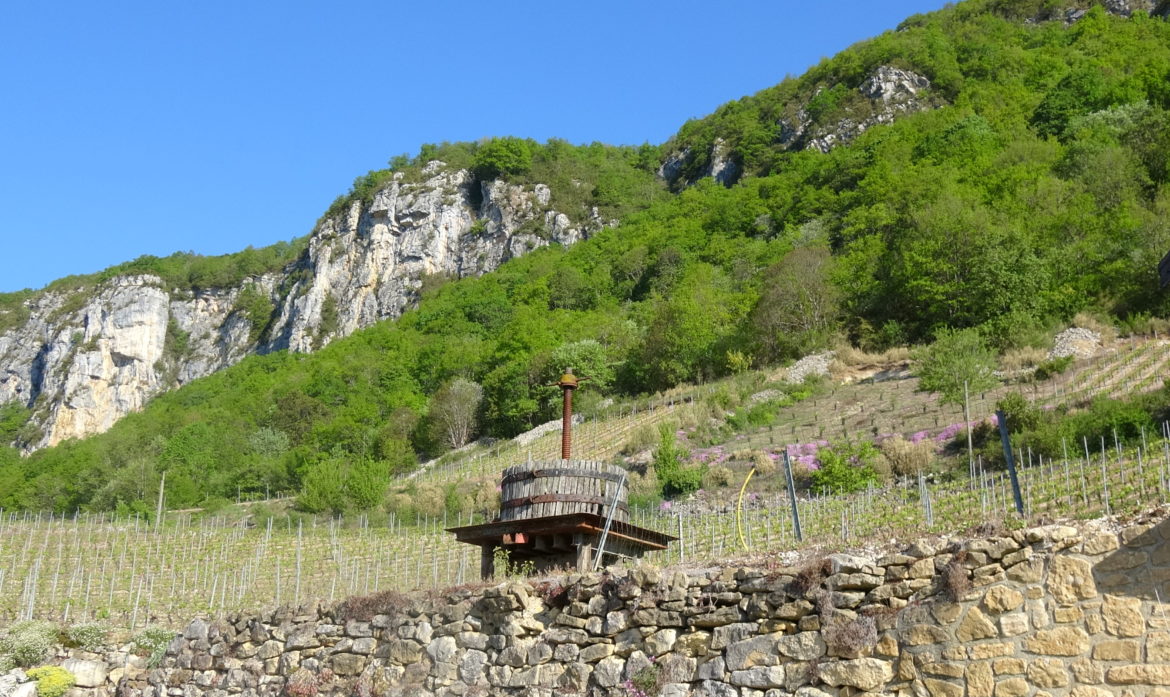 Unknown to us until two years ago, Le Caveau Bugiste has been a celebrated local gem within the Bugey AOP for 50 years. Founded in 1967 through the association of six winemakers from the area surrounding the charming village of Vongnes, this cooperative has been guided by a simple credo: tradition, home, quality. Together, these farmers learned the art of vinification, calling on their young vines to help them craft wines of great distinction and character.
Combining luxuriousness with a steely freshness, the wines of Le Caveau Bugiste are reminiscent of Chablis, and yet are distinctly mountain in their spirit. The Manicle vineyard is a stunning site, resting at the foot of a cliff that retains heat and blocks the wind in this cool climate, allowing the vineyard to maintain the conditions necessary to grow high quality chardonnay and pinot noir in this fringe environment. The high-concentration of limestone in the soil lends itself to the nuanced minerality that is the very backbone of these wines.
A darling of the region, Le Caveau Bugiste is wildly successful in its home market, with its wines featured in the finest restaurants from Lyon to Geneva. In fact, 80% of its production is sold locally, much of that done through its visitors center in the village which sees a staggering 35,000 guests per year.
Today, Yannick Chaudet—son of the last remaining founder, Jean Chaudet—leads Le Caveau Bugiste. After completing his university wine studies, he returned home to continue the success of Le Caveau Bugiste fueled by the same enterprising spirit that brought about its creation. While he has worked lutte raisonnée in the vineyards for many years, Yannick is taking the next step toward conversion to organic farming.
https://www.caveau-bugiste.fr/